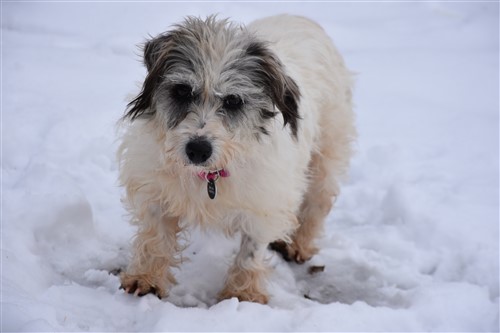 Frances is an eight-year-old gray and white rough coat female Jack Russell. This little girl  weighs 13 pounds, and was part of the JRT group surrendered when the breeder owner died.
The most shy of the dogs we took in, she has come around beautifully as a very loving and gentle JRT with JG mom, but is still very fearful of everybody else and does not trust. Once she knows you, she loves belly rubs, to be gently held, and to follow you around. She is quite an independent little dog and does enjoy roaming the fenced agility field looking for critters.
Frances has no idea of what walking on a leash might be, as she lived her entire life outside with the other breeder dogs.  Since she learned the dog door, she has been very clean so house training will not be too extremely difficult.  A fully fenced yard is a must and an extreme amount of patience for her to come around and be the great Jack Russell she can be. Frances is a very quiet little dog, gets along with all of her mates, but does not have any interest in toys or things to chew. Hopefully once she acclimates to a new family she will eventually learn to be a dog and enjoy the things that make other terriers happy.
There is nothing more rewarding than taking a dog that has known very little human affection and showing them that life can be enjoyed. With dogs that have had very little socialization, having another dog to learn from is a great asset. They tend to take the lead of another animal who already knows the routine.
Worthy of anybody's love, Frances deserves to be given a chance. Moreover, even though it may take longer for her to settle in than a regular adopted dog, she will eventually come out of her shell and enjoy her life and be worthy of your efforts.