ADOPTION PENDING!!!
Florida Jack is a beautifully bred 9-year-old stocky white and tan broken coated male JRT, who sadly has been in two previous homes because the owners claimed they could longer care for him. A gentleman's son left this jack with his dad 5 years ago and when the dad retired to Florida he no longer wanted the dog. Jacks Galore had arranged for him to be rehomed in Florida, but sadly this ended up not working out. Florida Jack then came back to us from Florida and is now being fostered on the Cape with one of our adopter/fosters.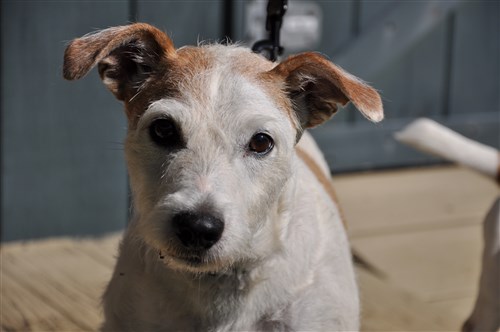 He is currently relishing being in a pack of five jacks, playing in the pool, and relaxing in the sun. Our foster has said over and over, and posted on her Facebook page, that this dog is awesome! A very stocky, strong and extremely energetic jack, Florida Jack loves to go for very long walks and it's hard to imagine him being anywhere close to 9 years old.
He is extremely clean; rides well in the car and is very mild-mannered. This jack also gets along with every dog he's ever met, and is very tolerant with the young and crazy ones. He seems to just mind is own business, but will gladly take all the squeaky toys and enjoy them for himself. Florida Jack also loves to be with his humans, and certainly must not understand why he was given up twice, and we're not sure either!
Florida Jack LOVES to play ball, and while at the rescue was taking 3 and 5 mile hikes with JG dad. This dog still has many years of life in him, he would relish having company not only with another dog but perhaps a person who would take him on long walks and show him the security that he was obviously denied in his previous two homes.
Meeting him will convince you that if so worth the effort to adopt a teenage jack.