Flint is a three-year-old smooth coated black and white male Jack Russell Terrier cross with an undocked tail, who weighs in at a tiny 13 pounds. Flint came to us with his three siblings from a home where there were too many dogs and so the owner took them to the shelter to rehome them.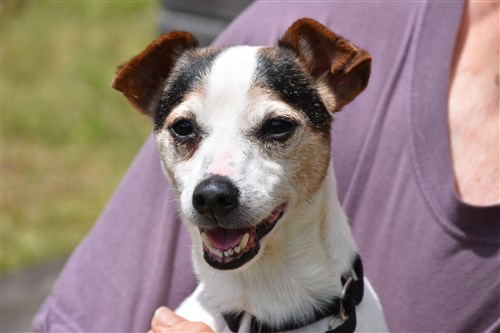 Our rescue partner asked us to help; which we gladly did. They were pulled and came to us with tails wagging. Flint is a very mellow and inquisitive mix, gets along with all other dogs and enjoys us humans too. He loves sitting in your lap and watches the world carry on around him as he surveys his surroundings from his elevated position.
Flint walks great on a leash, and has a wonderful quick pace and happy gate as he walks with his along the wooded paths. Despite his size, Flint easily musters a 3 mile walk with his roommate, without any hesitation and enjoys it immensely. He does very well in a crate, rides beautifully in the car and seems to be well housetrained, but might need a refresher course when he gets into a new home. We have noticed that Flint does not seem to have any interest in toys at this time, but again that might change once settled with his family and they start to interact with him.
An adorably sweet, active and fun-loving Jack mix, Flint will certainly make a wonderful addition to an active family looking to have an under your arm dog to enjoy.