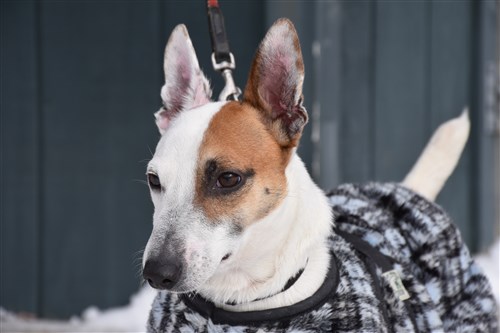 Flapjack is a five-year-old short and stocky 16 pound all white, with a brown eye and ear patch, male Jack Russell cross who we think might very well have some bull terrier in him. Flapjack came to us as "Jack", a stray found and then kenneled outside until a rescue could step up; and that was us!
A most delightful and amazingly sweet dog, he appears to be very well housetrained, is fine in a crate, and rides beautifully in the car. Flapjack has tons of energy and can race around the agility field after the balls (but doesn't bring them back) for hours. This JRT cross certainly needs a lot of activity and mind games to keep him busy, and he loves to door dash. He is the most perfect gentleman when it comes to taking treats and is very gentle when taking it from your fingers.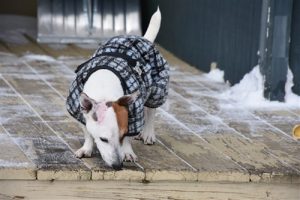 He gets very excited to see his humans, but is not quite sure what affection is, but will certainly wag his tail when the door opens and it's time for taking a walk. He walks beautifully on a leash, with a nice stride using his nose to check out the air and keep up with what's on the ground. Flapjack is good with other dogs, even before he was neutered he was tolerant, and doesn't seem to be bothered by any of them, but also does not engage in play. He is sort of a loner; give me my person type of Jack.
We do not know Flapjack's history but he does have some permanent scarring on his forehead by his ear, but the hair has been gone for a long time and there's no irritation or rash, it will just permanently be bare. A very healthy, very busy and active jack mix, he certainly would make a great jogging companion or perhaps an agility dog. He certainly is a powerhouse in a little body.
An absolute looker of a dog, with an amazing personality who deserves to know that there's no more roaming the streets in his future.