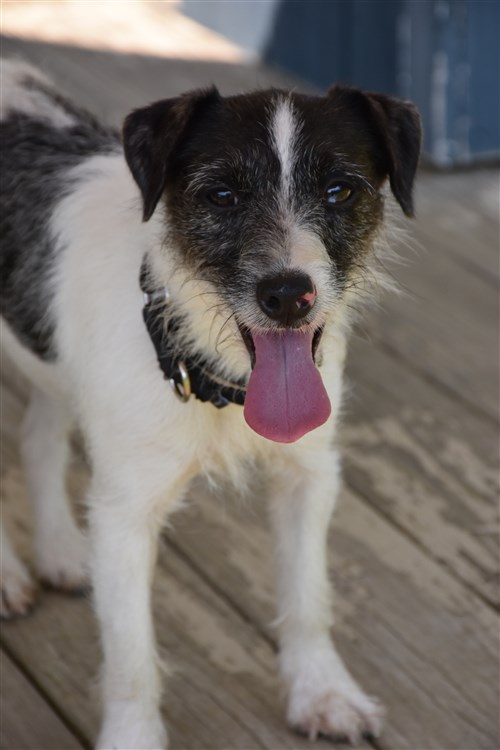 ADOPTION PENDING!!!
Evi is a 2-year-old black and white rough coat Parsons female who weighs in at about 13 pounds.  Dumped at an old abandoned farm building with three other jacks from the same breeder; they all came to us in desperate need of forever homes.
They came a little feral, with a little fear, but with an enormous amount of desire to love and to do good. The eldest of the batch, Evi, unfortunately was heartworm positive so she began her heartworm treatment the minute she landed with us. She has had her first procedure to kill the heartworms and will have a month of rest before she receives her second and third procedure. After that, she will be here one more month and then she is able to go home. We hope to have her start her new life on December 1st. Within six months she will be heartworm free.
Settled with her forever family she will be able to begin the process of learning to be a dog. With incredible sweetness, much desire to be loved and cuddled, she is overly enthusiastic when it comes to being adored. When a calm someone leads the way, like her brothers, she will blossom.
She's doing quite well learning to walk on leash, beginning to understand what it means to stay by your side and definitely would enjoy the company of another dog. She can be a little bossy, but does miss playing and running around with her four-legged brothers who were adopted before her.  Evi is nothing but sweetness, tons of energy yearning to let go, but of course frustrated now since she must rest during this time until her heartworm procedures are completed.
She is very clean in the kennels, but we are quite sure that she will have to polish up on her housetraining skills, but we do know that her three brothers have learned it quite quickly.  Evi is good in a crate, she travels very well in the car, and is very energetic and active as any typical young Jack Russell should be.
She's hoping that as soon as her heartworm procedures are completed she will be going home, and perhaps that someone might be you?   Apply to Adopt Evi