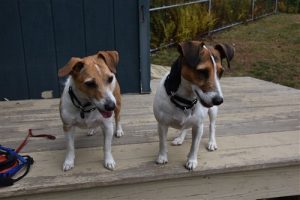 ADOPTION PENDING!!!!!
Emma and Ginger are a pair of loving six-year-old Jack Russell females who are extremely bonded and will only be adopted out together.
Emma a tricolor smooth coat who is the most timid of the pair, and Ginger a brown and white broken coat is the exuberant and confident sister. But both girls, once you have their hearts, are incredibly affectionate; big kissers, tail waggers and very very loving.
Brought to a shelter, the assumption is that the owner died and no one in the family wanted them. These two girls were definitely adored by their former owner, extremely well taken care of, and are certainly ready for a forever home. Very well housetrained, they ride well in a crate and enjoy the car, but we are not sure they were really ever leash walked very often. They walk at a quick pace in every direction tails wagging, noses is in the air, and enjoying the countryside.
They certainly will keep you in shape. They themselves could afford to lose a few inches as they weighed in at a hefty 16 and 17 pounds. Both girls love to race around the agility field, but are the most wonderful snugglers and are willing to wash your face to extreme, sometimes with little love nips in between.
Very beautifully bred, they are just a most delightful duo that will make anyone a terrific pair of companions.  This time they need to know it is forever.
Apply to adopt Emma and Ginger