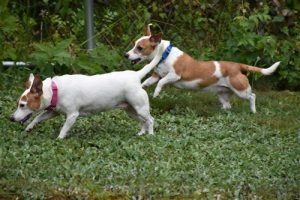 ADOPTION PENDING!!!!
Emily and Sasha are a 7 year old very bonded pair of smooth coat jacks; Sasha mostly white, and Emily more brown.  Both very muscular shorties, Sasha with some extra padding that needs to come off. Ideally, they should weigh about 13 – 15 pounds when in shape and trimmed down.
These two girls came up from the south and the family that adopted them only a few months ago, had to move suddenly and was unable to take the dogs with them.  We are glad we took them in because they are the most delightful little girls and very happy and full of energy. Little shy in the beginning but once they get to know you and trust you they just give lots of kisses and the tails never stop wagging.
JG is making an exception to the rule of NEVER two female jacks together; they are so bonded and unable to be separated without one of them having a meltdown. We do not know their background and there is no history for them, but they are in excellent health, have had dentals, and well taken care of before we took them in.
This pair are very happy to just run around in the fenced in yard and then calm down to be your snuggle companion. They seem to love people, but we have not yet introduced them to other dogs. We were told they are housetrained, but I think they will need a refresher course after having been in the kennels. We do not see any interest in toys or playing ball, but that also could be because they were never exposed to much Jack Russell activity.
We also feel that they might not know their names very well, as they came up from the south with different names, then changed upon adoption. They seemed comfortable for the car ride, but were not pleased when placed in crates. They will eat side-by-side but we feed them separately as Sasha is a food hog, and switching bowls back and forth to see who has the most does not help with keeping the amount of food each is getting in check.
A loving fun pair of jacks, when one is not enough.  Apply to Adopt Sasha and Emily