Duke is a 2-year-old male, tricolor smooth coat shorty Jack Russell Terrier with an undocked tail. A compact Terrier who weighs 14 pounds.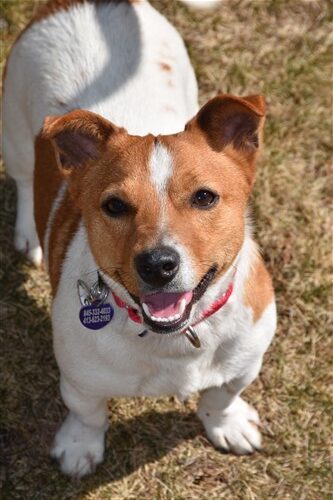 Duke was given up because the family said he was not easy to handle and they could no longer keep him. We gladly took him in as we saw his potential. Kept mostly in a basement with little interaction, he developed some bad habits. Little knowledge about the breed allowed him to get away with resource guarding his things, and there appears to have been insufficient training as a puppy.
While being fostered by our rescue partner, and since settling in with Jacks Galore, he has truly blossomed into a wonderful little dog. This JRT walks fabulously on leash, makes you keep up a good pace, and is definitely a hunter. Chasing after falling leaves, birds in the field and listening for noises coming from the stonewall; nothing escapes him.
With tons of energy he loves to zoomie on the field, and adores squeaky soft toys. This terrier also likes to chase the ball. Duke gets along with female dogs; no boys need apply, but can be a little bossy with HIS stuff. Duke will resource guard what he thinks is his inside, and chase away the girls. Outside on the field he is a great player with his female roommate, tumbles and rolls around then gets right up again and runs off for the chase.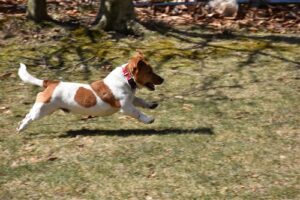 Duke is so loving with us now and travels calmly in a crate in the car, and even though squirmy at the vet was well behaved. Duke appears to be housetrained.
Duke longs for adventuresome walks in the woods, a soft sofa on which to cuddle with his human, and the recognition of the character he is. A compact little Jack Russell longing for the love he has been missing from a family.
An experienced Jack Russell owner is advisable, but this little boy has nothing but good intentions, lots of love to give and a stellar personality. A character in a dog coat. Apply to Adopt Duke