Her name stands for deaf puppy, which she is. A beautiful 5 year old female long legged Jack who currently weighs 19 pounds, with somewhat of a broken coat; DP is all white with a lovely long tail used for lots of wagging.
Lacking some confidence with strangers, DP is quite shy at first when introduced, but after a while shows extreme affection and is very devoted to her human with quite the voice. A very soft and gentle dog, she has had quite a few litters of puppies, and came in with two of her 8 month old sons. She gets along with male dogs but absolutely cannot be with another female, very typical for this breed.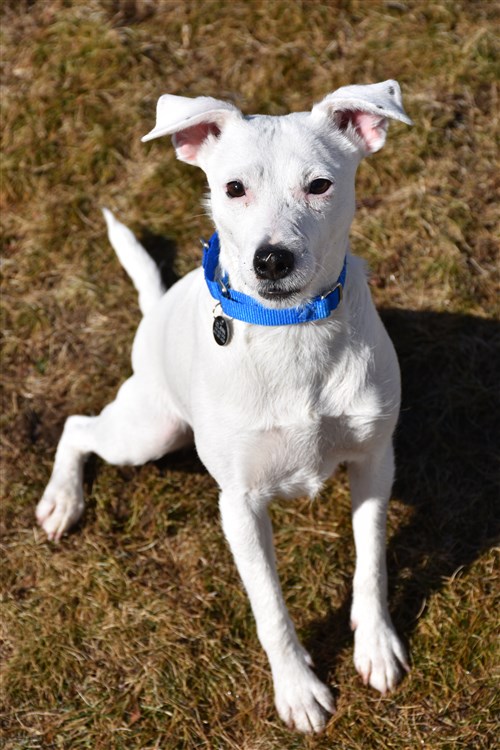 She is extremely playful with her two sons and is a marvelous ballplayer. She can play for hours running back and forth and giving you the ball when you go to take it from her. DP rides well in the car with a crate, but has not had much experience in a crate in the home. She seems to be well housetrained, has never had much experience with leash walking but is already doing quite well with a harness but gets very excited to be out in the world, prancing from side to side not knowing what to make of her chance to have a walk. In her previous home she was only let out in the backyard and always stuck close to her dog mates and JRT children.
DP will absolutely have to have a fenced yard because of her deafness, but she is extremely smart and will be able to learn sign language quickly giving her the chance to enjoy communication with her person. Having another dog in her life will certainly be beneficial so she can take the lead and learn from her hearing partner.
A sweet, loyal and lovely girl she will make someone a very devoted companion.