ADOPTION PENDING
Dove is a two-year-old brown and white smooth coat Jack Russell, possibly a mix, who weighs in at 17 pounds. Dove came to us with a litter of five puppies who are now all adopted and in their new homes. Her partner Checkers arrived with them when the family's home was sadly foreclosed.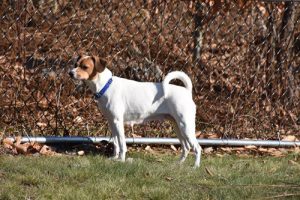 She is a lovely dog, very sweet, adores attention, is very loving and definitely devoted to her human. This girl is extremely active and very high energy. Like her roommate she too can jump a 4 foot fence, thus must have a safe enclosure in her new home. Dove is a force when it comes to walking, and sets quite the pace for her outing and has her nose to the ground looking for anything that might prove to be prey. Perhaps there is some beagle mixed in with this JRT?
Dove has an enthusiastic attitude and is learning to sit rather than jump to the person's eye level when you go to greet her or feed her meals. Dove will definitely need a very active home, lots of long walks, possibly some dog sports, and some basic training to keep her mind active and to learn to settle down. It is obvious she still has a lot of puppy in her, and one can take advantage of that youth to train her properly. She does fine in a crate, is very well housetrained and she seems to get along with other dogs and is always up for running around with her pal.
A youthful jack needing someone to provide her with an outlet for all of her Jack energy, she might even be a good running partner.