Dora is a 10-year-old brown and white EXTREMELY pudgy female shorty Jack Russell who weighs a staggering 15 pounds! Ideal weight? Most likely 10 pounds.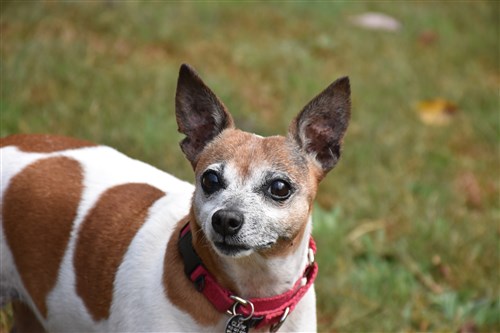 Left at somebody's house, her owners never returned and she was then brought to a shelter from where our rescue partner scooped her up. Since January, a wonderful group of Sisters fostered her. Dora went to "work" with Sister T every day, but unfortunately, since she was so adored, the many people who came into the mission shared their lunches with Dora on many an occasion and that was in addition to her breakfast and dinner dog meals. Did we mention all the treats she was given?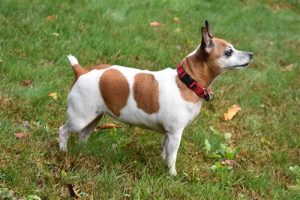 Dora has begun dieting, and since she loves going for walks and is wonderful on leash this little Jack Russell is fully enjoying her two-mile hikes. She leads the way with much gusto and enjoyment. Dora is housetrained, gets along with all dogs, absolutely adores humans and her tail just never stops wagging. The best description was when our vet said that her tail moved constantly like a hummingbird.
Dora did have a mammary tumor removed during her spay. That was eight months ago and she is doing well, her health is excellent, her bloodwork spot on and her energy is that of a dog that has many more years ahead of her. Of course, one will need to keep a watchful eye on her belly, but since she loves tummy rubs that will be easy to do. She is a Jack; they live long lives. Dora loves the car, enjoys going out for adventures and is fine in a crate.
This little Jack has lovely manners. She has SO much love to give, she wants to share it with everyone.  If there is ever a Jack that deserves a soft landing it is this little girl.