ADOPTION PENDING!!!!!
Danny is an 11-year-old male, brown and white broken coat Jack Russell who weighs around 17 pounds. Given up when his owner passed, the family was unable to keep him.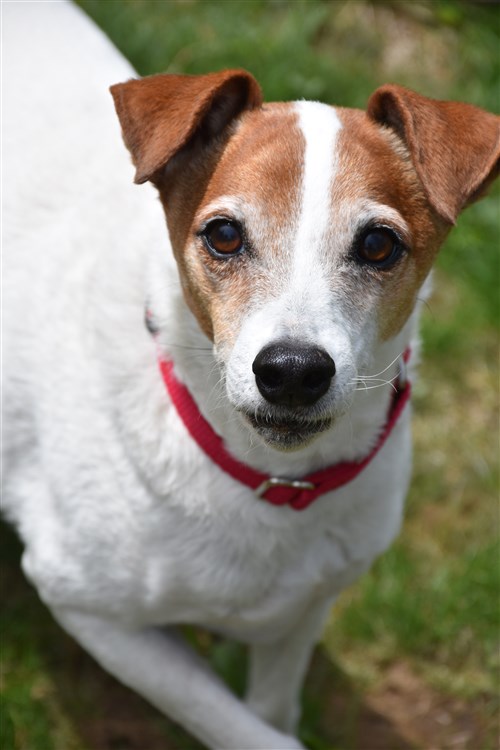 Danny is a very elegant, beautiful and kind jack currently stalled in sanctuary waiting for a forever family because of lack of space in the kennels. He gets along with all 17 JG sanctuary dogs and is extremely well housetrained.
He walks beautifully on a leash and it is full of energy, a typical senior JRT. He loves to play ball bringing it back for more tosses, and carry around his "babies" which are stuffed squeakies that arrived with him in a box. He rides really well in the car and does fine in a crate. This dog still has many years ahead of him, and he deserves to have a family of his own, not be in a sanctuary where he is one of many. He is very gentle, sleeps next to you under the covers and loves to be pet and snuggled by his human.
There is no kinder dog, who has beautiful eyes that show us he is longing to have his own person once again. Please remember that Jack Russells live very long lives, and Danny is extremely healthy. Fully vetted, he was given a dental making his pearly whites gleam (minus a few teeth).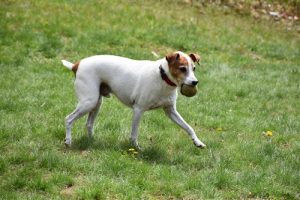 The rewards are great when you adopt an older Jack, but as is typical with this breed, Danny has tons of energy at his age and loves to walk next you while exploring the surroundings. He will also give a good chase to his tennis ball. Please consider this wonderful gentleman as a forever companion.