Dancer is a 1 year old female smooth coat tan Jack Russell cross, weighing in at about 12 pounds, with the most amazing personality and deep dark chocolate eyes. Dancer, named aptly, because when she wants attention or would like you to say hi to her, she will dance on her hind legs and wave her front paws in the air.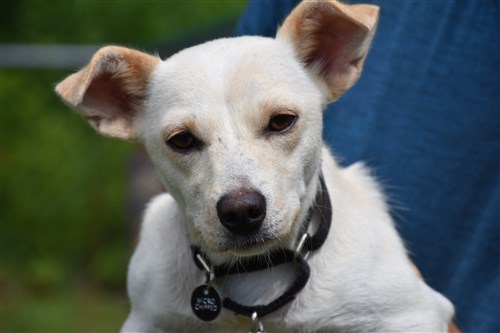 Dancer came to us when one of our transporters asked us to please take her as no other rescue had room. And when we looked into those dark beautiful eyes we could of course not resist. A happy, joyful, loving, gentle, and very playful young pup, she absolutely loves other dogs and has no greater joy than playing as often with as many as possible.
She is well housetrained, she has a wonderful enthusiasm about her being, and it's absolutely impossible not to smile and laugh when you look at her gangly little body jumping around and bouncing here there and everywhere. She is extremely smart as any jack is, learns very quickly and is very well behaved. She's quite quiet, and loves to snuggle and be loved by her human; most preferably surrounded by her dog pals in your arms. She does well in a crate, she rides beautifully in the car, and obviously loves to run so I'm sure she'd be a great hiker as well.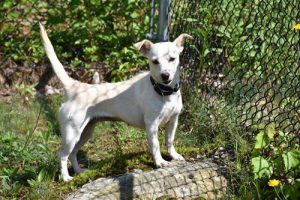 This is an absolute total gem of a pup, so sweet, loving and so beautiful to boot. She will make anyone a loving companion for many years and deserves to land truly where she will be cherished. Dog pals are mandatory!