Daisy is an nine-month-old black-and-white rough coat female Jack Russell cross who weighs a lean dainty 12 pounds. She came into our care when one of our vet techs asked us to help someone who could no longer keep her.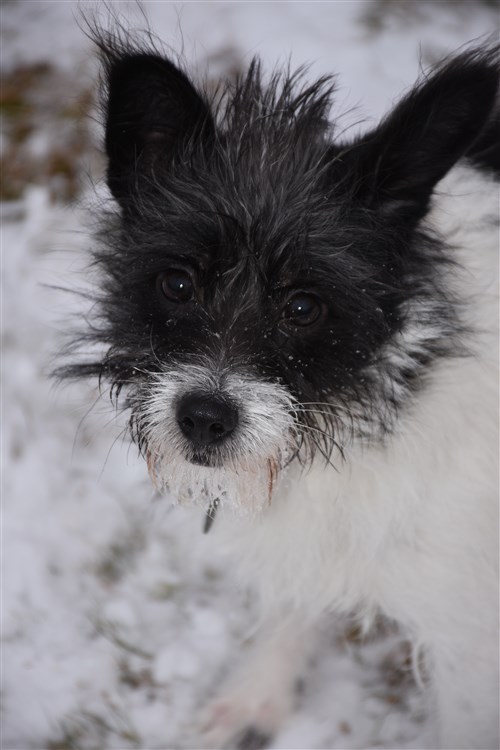 An exuberant, wild and crazy "kinda girl", Daisy exudes joy, love, and extreme happiness! She spent a lot of her time in a crate in her first home, but now she's enjoying being able to run around on the agility field and show how talented she is when it comes to retrieving the ball.
Daisy is almost fully housetrained and a very quick learner; just some more help to perfect something she was never taught. She is a quick learner though, and it will not take long with a proper schedule and the help of her forever person.
This young Jack is just now beginning to walk on a leash, but she is quite confident and adores absolutely everyone she meets.
Daisy adores other dogs, but she is a madwoman and plays like it will never end.  She leaps over dogs, sails through the air, crashes, talks, and zooms with the wind; MUCH energy to burn.  She will need a dog pal companion.
She is a good girl in the car riding in her crate, and was an absolute star at the vet. Daisy is extremely HIGH energy, a puppy through and through. She will need a lot of exercise, a LOT of exercise,  and would enjoy learning new things while she is growing up.
A little dog who will keep someone VERY busy. Apply to Adopt Daisy