Corkie is a 9-year-old male, black and white jack, with an undocked tail and holding his own at a skinny 13 pounds.  A stray from a rural shelter we work with, Corkie came to us looking to have a life where he is cared for and loved.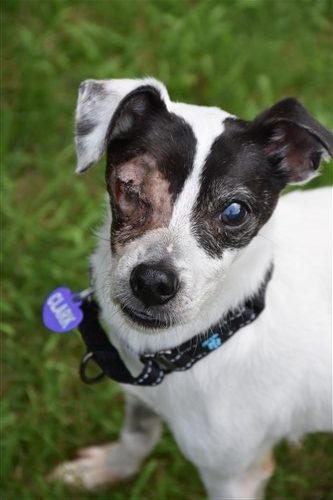 Once with us he was diagnosed with Inflammatory Bowel Disease; which is not fatal.  After a short stint at the specialist hospital in NY, my vet has set up a plan of a controlled diet and medications for treatment. Corkie is responding well to his new regime, has started to gain weight, and continues to be his happy gentle self.  This vet specialized diet will be for life but we hope to wean him off his one medication as his health continues to normalize.
After an incident with a dog in sanctuary, it was distressing to us that Corkie's eye needed to be removed. Procedure went well, healing nicely, and Corkie has not missed a beat. Typical terrier, he has absolutely no problems whatsoever running around and enjoying life with one eye. This so very sweet and quiet JRT loves all people, adores being held and cuddled and loves romping in the yard and going for walks.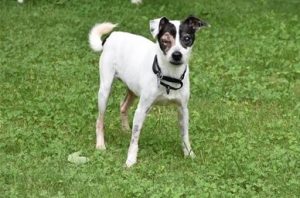 Corkie also gets along with all dogs but best as an only child because he displays some food guarding issues around his fellow roommates, so he was unable to stay in the sanctuary because currently 15 unadoptable dogs reside within the group.  At the boarding facility where he has stayed for short stints he is the staff favorite for his loving and gentle nature.  Perhaps best as an only dog so he can be relaxed and be the center of attention.
Certainly, he has had a very rough life of it before he was found. Housetrained and crate trained, this dog is the sweetest, most gentle Jack who just loves to be held, snuggled and sleep close by one's side.
This dog deserves a chance at a well loved life, and still has many more years ahead with the proper diet.  This is not terminal by any means, he is responding really well to this new diet with carrots as snacks!!!
Will someone give this little soul a chance at love; he certainly knows how to make you smile, hug you closely, and give you all his love in return.  Quiet and calm, he would be an ideal roommate!!!
Apply to Adopt Corkie