Copper is a seven-year-old brown and white, smooth coat female Parsons Jack Russell who weighs 14 pounds. She was a breeder's female who came to us because of family issues. We are very happy that we were able to help.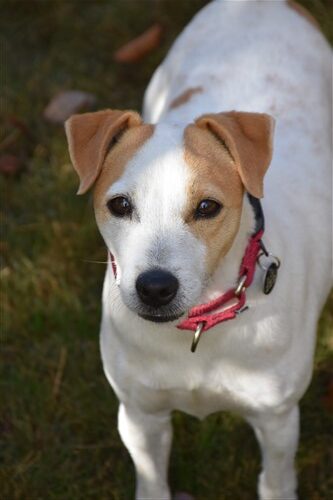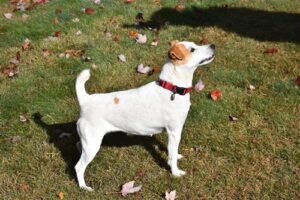 Copper is extremely friendly and sweet, adores people, and loves to be with her humans. Extremely well behaved on leash she enjoys very long walks, keeping a good pace until she detects critters, then her VERY high prey drive kicks in and she ambles. It appears that Copper loves the water so it would be wonderful for her to find a home where she would be introduced to kayaking or have the chance to play in water.
Copper definitely has never had the chance to learn that walking also means bathroom time. This pretty girl has always used a dog door to the backyard, and here at Jacks Galore also has a dog door in the kennels and is extremely clean. A fenced yard would be critical for her success to learn proper house bathroom etiquette, with patience.
Copper would do best as an only child, she lived with other dogs but they were always kept separate, and we have found that she might not appreciate other dogs' company. There is always a possibility she might be ok with a calm, gentle male.  Copper enjoys the car, is crate trained, and was very well behaved at the vet.
A beautiful, loving, gentle Jack Russell deserving of a home where she will be part of the family and no longer need to be around breeding dogs.