ADOPTION PENDING!!!
Clark is a 1½-year-old tricolor smooth coat male Jack Russell who weighs an extremely muscular and lean 17 pounds. This gorgeous dog came to us because he proved to be too much for the family who purchased him, as he displayed the typical jack russell energy, and became quite the protector of his humans.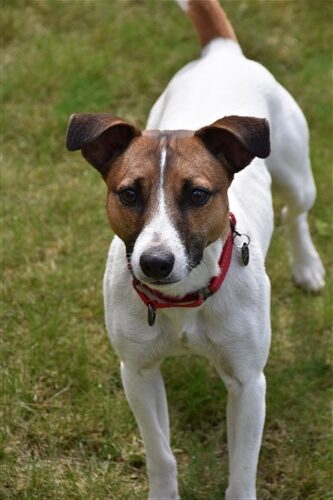 Definitely loved, and raised with manners, but with so many traits typical of this terrier breed, not really understood. There is absolutely only one word to describe this JRT – he is the real deal! Through the roof energy, exuberant enthusiasm, ball fanatic and way too much smarts.
Clark is quite fearful of all things new; especially of people he does not know or has never met. Now that Clark has settled well with us here at Jacks Galore, he is the most affectionate dog, and enjoys very long walks. With the quick rush out of the gates, once he settles and knows he's in for a hike, he is a beautiful leash walker and is interested in everything along the way.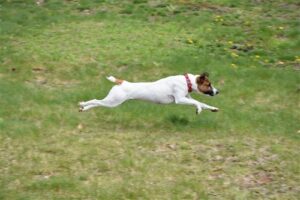 This dog will need some training, something we have already started and is responding really well.  Super smart, with a strong desire to please his human. With patience, and lots of ball tossing for exercise, he settles into the most wonderful companion. Very loving and loyal.
Clark is very well housetrained, very affectionate and loving towards the people he knows. He rides beautifully in the car. He is fine in a crate while traveling, but has a dislike of it when used unnecessarily. Clark also gets along with other dogs.
All around absolutely amazing Jack Russell, but will need to go to a home with breed experience, and absolutely positively must have a fenced yard.