Chloe is a six-year-old tricolor rough coat female who is but a small lass weighing 12 pounds. A delightfully sweet and affectionate jack, she adores her humans, loves to keep them company and snuggle.  Chloe did suffer from seizures, but they are now controlled by her taking Phenobarbital twice-daily. She has not had any seizures in a number of years. Seizures once controlled, do not shorten the life of a dog, and they lead perfectly normal active healthy lives until old age.
Chloe was brought to rescue because her mom no longer had the time to care for her.  Chloe loves to take long long walks, a true jack with a very good nose; walking beautifully on leash.  Chloe is very well housetrained, is good in a crate, rides well in a car and is a lady through and through.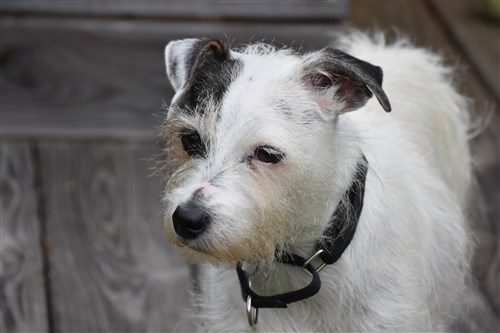 Chloe is fine with other dogs around her, meets them calmly with tail wagging, BUT will not tolerate any sniffing of her personal space; thus needs to be an only dog.  She just kindly gives them a small growl to tell them that is not acceptable to a lady such as her.
Chloe loves to be active and is very energetic.  We are finding that when she gets a very nice long walk she's a very quiet little girl, but she does need that activity to keep her busy. A delightful little JRT with enormous personality, it's very easy to fall in love with her demeanor.