Chip is a 9 year old male, tricolor rough coat shorty and weighs a chunky 15 pounds.
Chip came to us because his person had a baby, and even though she tried for quite some time to make it work, Chip is just not tolerant of the toddler and showing a lot of discomfort now that the baby is crawling.  A most devastating decision for his mom, Chip is an extremely loving little Jack.
He was fabulous at the vet and everyone adored him there, his health is excellent and he had a dental as recent as March 2021. Chip gets along with other dogs, absolutely adores playing ball (although he does not always bring it back), loves squeaky toys and tug-of-war, but can be stubborn when it comes to you taking things away from him that he has claimed. Here at the rescue he is learning the trade game.
This JRT walks lovely on a leash, certainly enjoys sniffing everywhere and is very alert and aware of his surroundings. Chip enjoys car rides and adventures, does fine in a crate, and is well behaved to the extent that any Jack knows how to listen!  Chip is housetrained.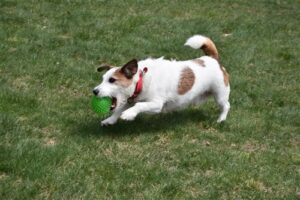 Except for needing to lose a few pounds, this Jack Russell is in excellent shape, loves to go for long hikes and loves to play ball.
He is a marvelous snuggler, and gives great kisses.
Chip is used to being around people all the time, so it's best he goes to a family where he is not left alone for too long. A dog companion would keep him company and he would enjoy that.
A most handsome and happy Terrier, someone will certainly gain a great friend and companion.