Checkers is a two-year-old black and white smooth coat male Jack Russell; daddy to the recent litter of puppies that have all gone home. He weighs about 17 pounds.  Checkers, a.k.a. Buddy, is a lovely, strong and extremely athletic JRT who loves to play ball, but not for too long.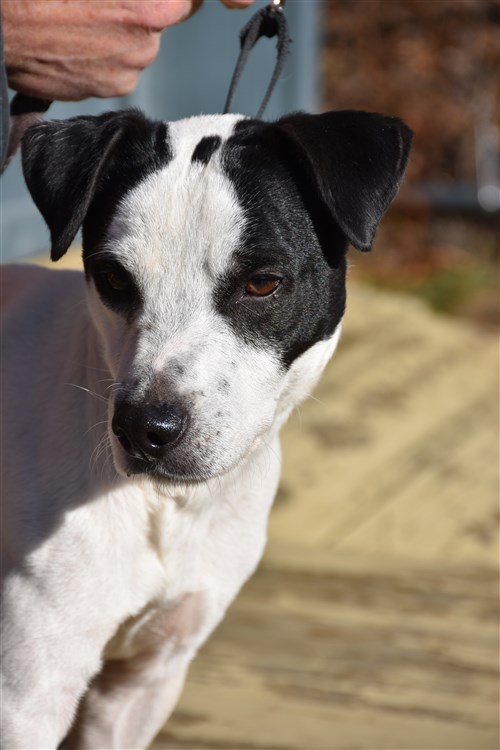 This dog definitely has a hunting nose on him, and is also a very high jumper and can get over a 4 foot fence, so any enclosure will have to be jump proof. He walks lovely on a leash, does start out of the gate pulling quite strongly, but settles down with a wonderful flowing gait keeping his nose to the ground looking for critters. Checkers is very soft, very gentle and seems to get along with other dogs. According to the couple who had the dogs prior to surrendering them, said he was a very good dad. The family of jacks was given up due to a home foreclosure.  He is currently rooming with the mom to his puppies.
Checkers does fine in a crate, he appears to be housetrained, and he rides beautifully in the car. This young dog definitely will need a lot of exercise and mental stimulation, he would probably be a wonderful companion for a runner, and would excel at any dog sports where he can use his athletic prowess. Checkers is always in motion, so it was extremely difficult to get good photographs of his head. He has lovely soft eyes and beautiful markings on his face.
This dog did not have much in the past in terms of exercise, he will really enjoy being busy like the breed requires.