ADOPTION PENDING!!!!
Chase is an 8-month-old tan male jack/chi cross, weighing a streamlined 9 pounds. Chase is a COVID puppy, purchased in the heat of the moment, not given what he needed and then landed in a second home who was unable to work with his fears. There is no doubt that Chase was mishandled, but this dog has absolutely no aggression, no meanness, just total confusion about what people might do to him.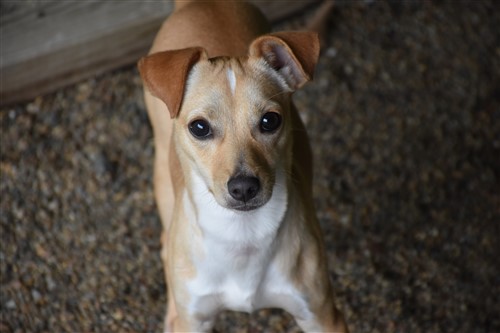 Posted on social media we were asked to step up, so our rescue partner in Virginia picked him up, and he quickly became very attached to her dogs, and her daughter. He would relax and snuggle but still was very apprehensive about being "caught". Arriving at the rescue, he has been rooming with another female Jack and learning from her.
Chase is still extremely leery of us, but is slowly learning to trust that we mean no harm. This cute little button will come and sit quietly in the corner when he knows it's time for walkies, allowing me to put his collar on, and give him gentle pats. Once he is on the road he relaxes and enjoys all the smells and the interesting things he encounters, he walks beautifully on leash. Chase is housetrained, rides well in the car, and is crate trained.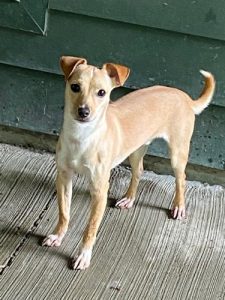 The pictures we got of him while in foster (below) show that he certainly can learn to relax, and with a lot of patience and love, this dog will be the most wonderful companion ever. Chase is definitely a special project dog, and will need a lot of attention, quiet patience and most of all allowing him to learn to trust again. Chase must also go to a home with another dog. This will afford him the opportunity to have a guide from whom he can learn that his forever home will allow him a wonderfully long life with lots of love in return.
A mix with lots of energy, enthusiasm, and a lot of love to give once he can learn to trust. We hope that someone will give this loving little dog a chance, he deserves more than being in a kennel, because we know how much he loves to lay on the sofa and snuggle with his humans.