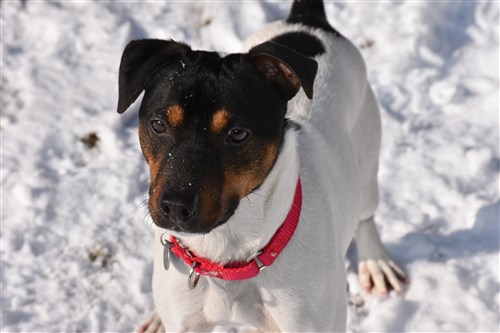 Brook is a 2 ½-year-old tricolor smooth coat male Jack Russell with TONS of energy and not much confidence. After two homes Brook came to us after a rescue asked us to help adopt him out to a proper JRT family.
Full of energy, love, snuggles and affection he was never properly trained or given the opportunity to be a Jack Russell. He is so willing to learn, so wanting to please, but needs someone to guide him the right way to show him that all of his energy can be expended in a fun way. Brook rides beautifully in the car, is not happy in a crate, and according to his last owner he is not fully housetrained. He has been extremely clean in the kennels though, and knows what outside means, so with patience and consistency he will learn quickly. We are assuming he already knows the drill, but was just not let out enough.
If there's one thing that Brook loves, it's his walks. He runs out the starting gate with so much excitement that it takes him 10 or 15 minutes to realize the walk is not ending quickly. Before long he settles down and starts to enjoy the scenery. Once he gets his groove Brook is a wonderful walker but loves to jump from side to side looking for critters, sniffing the walls and scouting for smells. Once on the agility field his true self appears with his zoomies, throwing the ball in the air, and leaping high with the sense of freedom he's been given.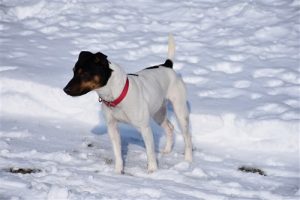 We were told Brook gets along with other dogs, but if not introduced properly he can be fearful, but will come around in a quiet way. We will have him meeting new dogs soon. A beautiful JRT, with a wonderful personality he has so much to offer when given a family that will allow him to learn, to show him the way, and to give Brook what he is longing for; a stable loving environment. He would excel at agility, and most likely be great at barn hunt.
This is a dog that will be a worthy and dedicated companion and just gives the greatest kisses and snuggles when he knows that you love him back.