Bradley is an 11-year-old male white Jack Russell mix with a tri color ear/eye patch, weighing in at a sturdy 25 pounds.  This delightful senior came to us from his owner in New York City who could no longer afford to keep him. Adopted from the city shelter as a puppy, Bradley has been a wonderful companion and a very gentle dog; it is obvious he was well loved.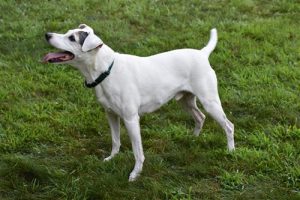 An extremely well housetrained, well-behaved and very affectionate big boy.  Despite having gone to dog parks in New York City, he can be very particular about his four-legged friends, and would do best perhaps as an only dog, as he is quite possessive of his personal toys. A fabulous ball player, he has an enormous amount of energy and retrieves it dropping it for more tosses.
Bradley walks beautifully on the leash with a great pace and good manners while he accompanies you on your adventures. Bradley loves people, and is very gentle. He is a snuggler, calm in the house, but also enjoys going out for a good long walk and then coming back and cuddling on your lap while his human relaxes. He listens well, is very attentive, and is desperate to please his person. Bradley rides well in the car, but takes a bit to settle down because of the excitement of going somewhere interesting.
It would be so nice for Bradley to live out his senior years with a human who can show him the affection he misses terribly. Extremely healthy, lots of energy in typical Jack Russell fashion, he still has many years ahead to enjoy life.