Blanid is a two-year-old brown and white rough coat female who weighs a petite 12 pounds. Given up because of too much commotion in the home, this little girl was rescued from a hoarding situation in the South, and proved too fearful to handle a house full of roommates.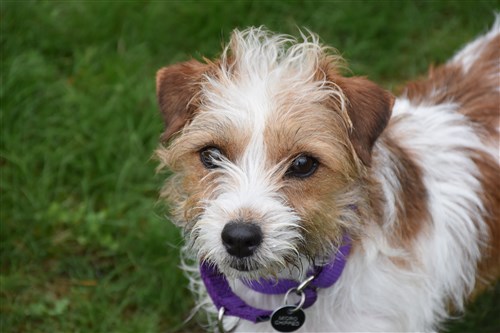 Now at the rescue, she improves daily, and allows herself to be handled by more people. Blanid is learning to trust, and once she knows her humans, she is extremely affectionate. She does tend to get extremely attached to one person, so she will need to learn that others in the family also deserve her affection.
Blanid gets along with other dogs but is quite fearful in the beginning, so needs a very gentle and kind male companion to show her the way. She loves to play ball, is excited when she gets a squeaky, but most of all adores her minder and would like to lounge for hours on your lap looking for belly rubs. She snuggles close and is learning that walking on the leash can be quite fun.  She has learned the crate is a safe haven to rest. Quiet surroundings is best without lots of traffic and strangers. She is almost there with her house training, is extremely smart and willing to learn, and with slow and gentle guidance will have her routine down perfectly.
The rewards with this adoption will be great, this little JRT longs for a stable and quiet environment where she can learn to be a dog once again and trust her human to keep her safe while allowing her to be the dog she is capable of being.