Billie is a tri color smooth coat female Jack Russell who just turned nine. She weighs about 16 pounds.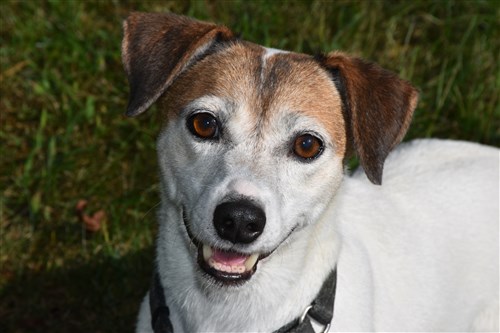 Apparently she came from the South and was given up to rescue after just two months; where she has floundered for far too long. Now with us, we find her to be a very sweet, affectionate and dear little girl, if not somewhat timid, so very much needing a forever home.
Billie has roomed with other male dogs, and somewhat of a bossy pants she is compatible.  BUT no toys can be around her with other dogs because then resource guards her toys from other dogs, not people, so it might be best if she is an only child.
Billie is housetrained; she does fine in a crate, and is a very quiet girl. She walks beautifully on a leash, and enjoys nice long walks with an affectionate gaze at her human as she strolls along. Billie is also a ball fanatic, and can chase it all day long, enjoying the continued retrieving.
With beautiful fetching eyes, the kindness of this little jack is evident when she comes to you with her tail wagging and soft snuggles in your neck. We're not quite sure why anyone would give her up in such a short period of time and why she had not been adopted from the previous rescue. But she's a gem, and we love playing ball because she so very much enjoys being active.
Typical Jack Russell; nine years young and many years to go.