Big Max is an 8 -year-old tricolor smooth coated male Jack Russell, weighing approximately 18 pounds. Max is certainly not a Jack to win any beauty contests, he might even be a mix, and having been extremely overweight at some point in his life he has skin loosely hanging around his tummy.  Here at JG he continues to lose weight and after being in a crate for far too long he is gaining strength in his hind legs.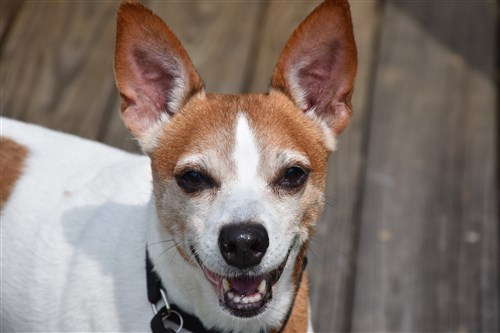 As with many of our residents we don't know anything about Max's history, but after a thorough vetting and blood work he certainly is a young man in perfect health, and has a smile to prove it! If there ever was a sweeter Jack we do not know of one; he loves to give kisses, sidle up to his human, and show affection and be in your lap best he can. This JRT also loves to be under any covers, anything to cuddle up into, wrapped for comfort.  Max also loves to go for very long walks, and now that he's got his sea legs back, ball playing is also a huge enjoyment for him returning it with enthusiasm for more tossing.
Max is extremely well housetrained; crate trained, walks beautifully on the leash and enjoys riding in the car. Max reacts fine with other dogs, with his whole rear end wagging when he meets them; but like many of our resident jacks he can be particular about who he wants to reside with. A most wonderful companion, Max greets everyone with enthusiasm. We can't think of a dog more deserving of a loving forever home than this delightful goofy JRT.
Looks should never be a determination for the love of a dog, and here's one that should definitely not be overlooked!