Bebe is a black and white broken coat, senior male Jack Russell, possibly 11 or 12 years old, whose owner passed. This little dog was then brought to the local animal shelter for rehoming. JG was contacted by the staff to see if we would be willing to take him, and of course, we said yes.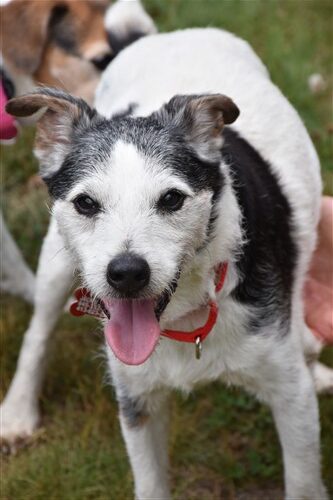 A very affable old man with lots of lumps and bumps, lots of energy and very wiggly. Bebe is scheduled to have a dental at the end of July but his initial vetting proved that there were no lumps to be concerned with and that he is just riddled with old age lipomas. Bebe does have arthritis typical in any senior dog, and resists being picked up or have his paws touched. Therefore, he has been fitted with an appropriate harness for comfortable walking.
On our walks, Bebe greets all humans with lots of tail wagging as if they are his long lost family.  Young people elicit leaps and kisses; it is evident he enjoys attention and has always been loved.  This terrier obviously misses his human; he does howl in the kennel and engages us with barks wanting to join us in our activities.
He walks very nicely on lead at a civilized pace, but needs to build up his muscle mass once again, most likely not having not had much exercise while his person was ill.  Bebe is houstrained. This JRT rides lovely in the car, and Bebe gets along with other kind dogs, takes their correction well, but shows no interest and wanders off into a world of his own. He loves squeaky toys, he engages in play, but is stressed and confused about why he has come to be in a kennel situation.
Bebe wants to be the center of someone's universe; he wants love and affection for however long he has left.