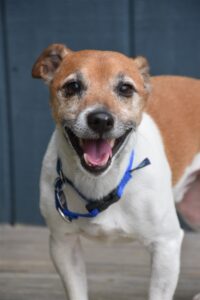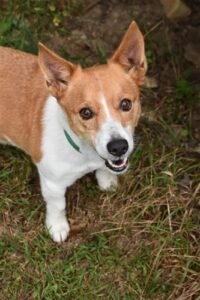 Bear and Briar, 7 years of age, both are smooth coat, brown and white male Jack Russell Terriers from the same litter. Bear with pointy ears is a little stockier than his brother weighing 16 pounds and Briar 14. This very bonded pair came to us when Bear did not interact properly with the newborn in the family. We gladly accepted them into rescue because dogs cannot always understand a toddler's movements.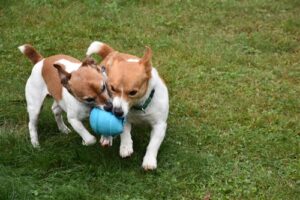 These two Jack Russell Terriers are very well housetrained, absolutely love to go for walks and have an enormous amount of energy enjoying their 4-mile morning walk at a very fast clip. Noses to the ground, searching and looking for critters that might cross their paths. They lounge on their cots for hours, watching the world go by with much interest with an occasional bark if something catches their eye.
They have little interest in other dogs, but meet friendly dogs on leash with tails wagging. Bear seems to be a little bit more opinionated when it comes to other dogs. They love to run around on the agility field, and will chase the ball, chase each other, toss ropes, but are not toy crazy like many jacks are.
They have not traveled often cars, but do rest fine in their crates, and behave beautifully at the vet. Very friendly and loving when they get to know you, willingly showering you with kisses and are polite when meeting new people.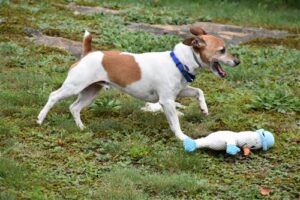 Both Bear and Briar were very much loved by their previous owners; it was just unfortunate that the dogs had little interest in accepting the baby into the family. Apply to Adopt the Pair