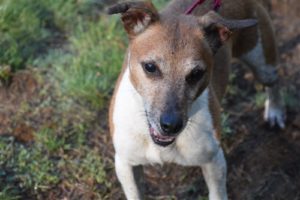 Barney is a six-year-old brown and white smooth coat male who weighs in at about 15 pounds. If there's anything that describes this Jack Russell, then it would have to be BALL FANATIC!!!
Very high energy, he can literally play ball all day long without tiring, bringing it back time and time again. Barney came to us from an animal control in Rhode Island when his owner, unfortunately a drug addict, finally had his dog taken from him because he never contained his dog and was never there to be with him. The neighbors finally decided it was time for the dog to get a proper home.
So Barney ended up with us, and what a marvelous dog he is indeed. Housetrained, does fine in a crate, rides beautifully in the car; and did we mention he is a ball nut? He can sail through the air to catch it, he can run after it a hundred miles an hour and always manages to bring it back and drop it at your feet. If you fail to see the ball he will pick it up and fling it at you, even when you are sitting on a chair – he lets you know it is time to throw the ball. Barney gets along with all dogs, as a matter of fact he could care less.  The ball, life is all about the ball!!!!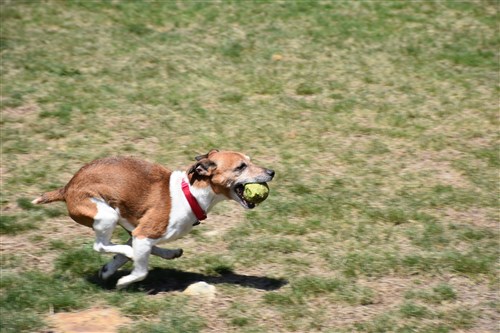 He seeks attention, and can be very vocal when he is ready for action. He walks really nicely on a leash, but to be honest is only focus seems to be on the ball. He's a snuggler under the covers, and does settle down eventually once he is in his home. With twinkling sharp eyes, beautifully built; Barney is an active terrier. You'll shed the pounds just watching him run!