Bandit is a five-year-old male, tricolor broken coat, shorty Jack Russell terrier. Bandit came to us after his family had endured many major personal upheavals and they were no longer able to be care for him.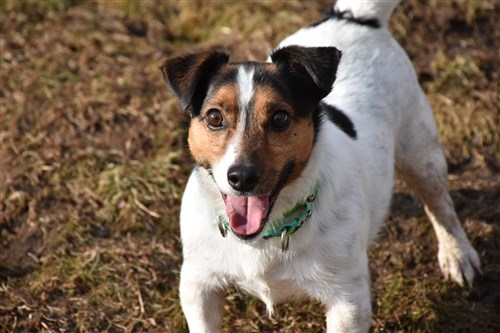 This Jack Russell definitely needs to shed some extra pounds, but with his love for walking and his current diet, the extra weight should come off quickly.  A delightfully fun and loving JRT, Bandit does need to bring some confidence back in his life, but will certainly win your heart over with his affection. A great walker on leash, he maintains a brisk stride able to keep his human in shape, and is an absolute ball fanatic. He could play ball all day long, gladly bringing it back to you for a multitude more tosses, gently pacing it in your open hand every time.
Bandit is housetrained; he enjoys lots of activity and wants to be the center of attention since he has very much missed that aspect in his previous home. This jack enjoys riding in the car but will bark when trucks roll by, and dislikes the crate. Since he just came into the rescue, we have not had much opportunity to introduce him to other dogs. According to his previous person, he did live for a short period with another dog but they would occasionally get into tiffs with each other. Not knowing what caused their occasional disagreements, we will be working with him and introducing him to some of our JG jacks.
A happy-go-lucky active and fun Jack Russell, he relishes meeting people, and when brought to his former owner's office enjoyed people showing him affection.