Ariel is an 8 month old female tan and white, smooth coat female jack cross, who weighs a delicate (but strong) 12 pounds. Ariel came to us from a shelter partner who wanted to make sure her youthful enthusiasm would be properly placed.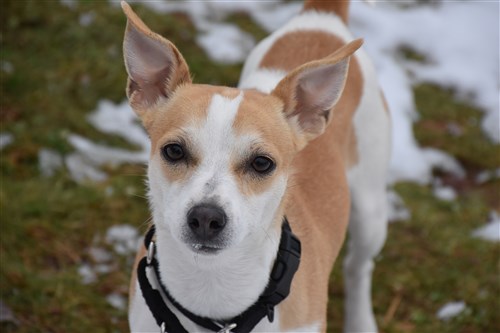 Exuberant is one word that certainly describes this little girl, full of love, tons of energy and a strong attraction to the tennis ball. Ariel can chase the tennis ball and bring it back to you literally for hours. She sails through the air, catches it and returns it with glee hoping for yet another toss. This is one way to get rid of SOME of her energy.
Ariel is house trained, she does fine in a crate but would prefer not to be in one.  She rides lovely in the car and showers everyone with kisses in between little puppy nose nips. This little girl must go to a home with another dog as she absolutely loves to play and enjoys the company of other four-legged pals. A fenced yard is truly necessary, as this is one way for her to get rid of some of her energy and the ability to play ball in a secure location.
She walks well on the leash, she likes to go for long walks but is a typical jack and loves to sniff every corner that she encounters and check her surroundings from any possible critters. Truly a delightfully energetic and sweet little JRT mix.
Her new forever home will certainly be very busy, but will never lack for the warmth this little dog can give.