Annie is a nine-year-old brown and white female smooth coat Jack Russell shorty. Annie weighs a 14-pound armful. This delightful girl's dad passed away and her two children ran off, but found after we rescued Annie.  We were asked to help by a family friend, so this well-loved WV country girl made her way to MA to find her forever home.
Annie is very dear, loves people and is a cuddler.  A great walker she keeps up the pace and enjoys finding interesting smells to explore.  This jack is said to be housetrained, and longs to be in a home once again where she can be with her people, whom she misses very very much.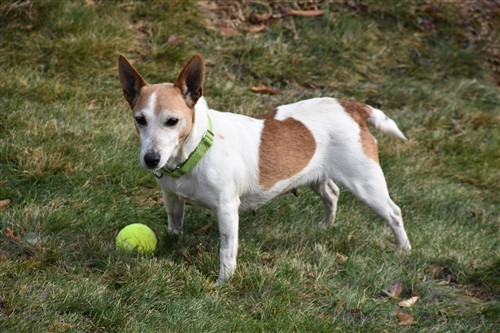 Annie loves to chase after tennis balls but returning the ball appears not to be an option.  Running around and expending her youthful energy is a priority.  Fenced yard a must. We have not yet had the opportunity to test Annie with other dogs, but since she lived with her children we are assuming she will be fine. Meet and greet is obviously required.
Annie has had a few pups but no longer has to worry about that and had an extensive dental where she lost most of her teeth.  Feeling much better and eating up a storm, rotten teeth are now no longer an issue.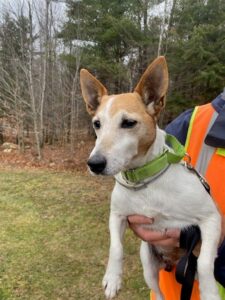 A calm and quiet girl except when she wants to be with you, she is a wonderful companion.  She rides well in the car, but is also comfortable in a crate when traveling. Annie longs for a forever retirement home, where she can once again be the shining star in somebody's life.