Angelina is a nine-year-old female, brown and white rough coat shorty Jack Russell. Angelina weighs a very petite 9 pounds. Her first nine years were spent outdoors with a lot of jacks of a backyard breeder.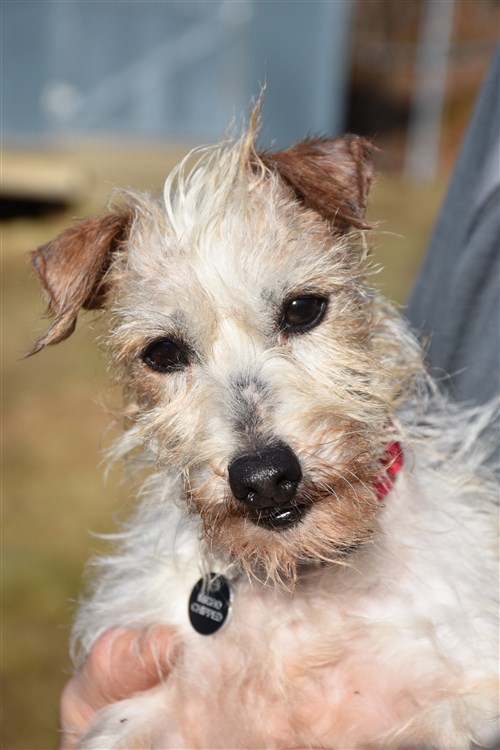 This delightful little JRT came to us when another rescue tried to help place the dogs when the owner died. Some of the more fearful and older dogs could not easily find placement so we were asked to step in. One of five who came to us, she shows nothing but sweetness, longing to be on your lap and be loved. It is obvious that these dogs have had very little human contact, and they are still not sure of all that surrounds them.
Everything is new to them, and even though Angelina is curious, she also frightens easily. Angie, as we call her, is very affectionate, and continues to come to you for attention and handling. Her tail never stops wagging. Do not be fooled by her age because she certainly has the Jack Russell prey drive will be found looking for mice running around the field with energy to burn.
She gets along with all dogs, is fairly quiet but certainly needs work on her house training. She appears to be fine in a crate, although never taught to use one. In excellent health, she had a full dental and now seems to enjoy her meals more readily.  They all adored her at the vet and she certainly basked in the attention she was getting.
She will need to be taught what it is like to live in a house, walk on a leash, the part of the family, but she certainly has learned what it means to sleep in a soft dog bed with cozy blankets and what it is like to be shown affection. Moreover, she is great at giving kisses!
A delightful little pocket Jack, she is definitely a prize worth winning.