Addie is an 18-month-old tricolor smooth coat female Jack Russell Terrier who weighs a lean 13 pounds.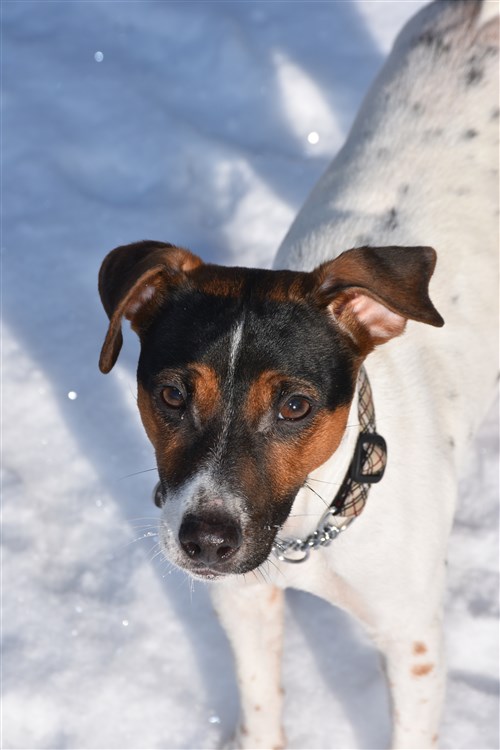 She joined the rescue when her owner who had adopted her from an individual and then found out that she hated cats. Her two cats were not safe and so she asked us to help rehome Addie.  We gladly accepted this energetic Jack Russell and will make sure that she never crosses paths with another cat again.
Addie is at the top of the scale when it comes to energy and enthusiasm. This little girl loves to chase the ball and run around with it, leaps in the air as she goes for walks, jumps as high as the sky and does not know what standing still means. She does very well on leash. She is a definite candidate for training and would probably enjoy obedience class with her willingness to learn. We are sure that she would be a fabulous agility dog.
She still has that puppy curiosity and impatience and gets very frustrated when anything takes too long; like putting on a winter coat or her harness. She has been very clean at the kennels, but probably would need a refresher course when she goes into her new home. At first, Addie is very shy and tentative when she meets new people, but when she knows that she is safe she becomes a love magnet and is quickly devoted to her human.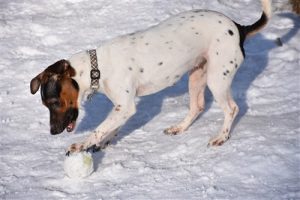 She has not had much experience in the world, but her Jack Russell instincts take over and she is learning quickly. She rides beautifully in the car, is good in a crate. Addie is tentative about dogs but then is enthusiastic about meeting them. With her energy, it would be best for her to have a dog pal to run with. A fenced yard is a must.
A young dog to keep her new person extremely busy. Apply to Adopt Addie