Abby is a three year old, all white (with dappled ears), rough coat female Jack Russell who weighs in at a dainty 15 pounds. She came to JG with her three other roommates when her owner could no longer care for the many jacks she had.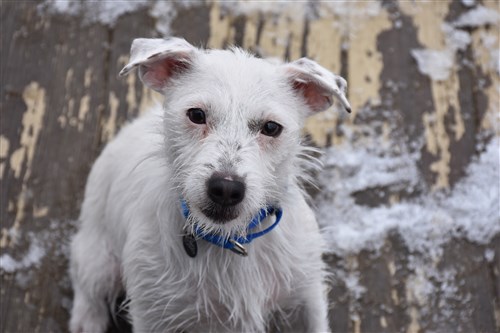 Abby is the sweetest, gentlest, kindest, and loving JRT, and absolutely adores her people. New people she approaches timidly until she knows they are there to love her, only because the dogs were never much socialized with the outside world.  What she seems to enjoy most at this point is sit in your lap and snuggle whenever she can. You certainly can't let her love of snuggling fool you, she is extremely energetic and a great athlete; an amazing ballplayer who can play for hours bringing it back to let the game continue.
Abby is housebroken, rides well in the car, gets along with other dogs as she has lived with multiple family members, but at this point does not seem to pay much attention to strange dogs, rather focusing on a person to take her home. She will tolerate a crate but does not like them; she is extremely well behaved and is very bouncy while walking on lead. Abby and her siblings were never taught to leash walk as they were always in the backyard. She's extremely smart and a very quiet dog, with a super amount of energy.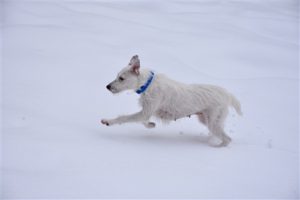 We know she would love to go for long walks and play ball for hours. Abby is a prize for a true jack lover.