Living outside 24/7 behind an empty house with another dog, enduring very snowy cold winters and hot humid summers, this delightfully sweet nine-year-old female JRT, named Patty by her savior, came to us so she can finally know the true meaning of being cared for.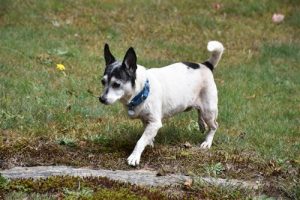 A 13 pound black-and-white smooth coat Jack Russell Terrier with an undocked tail, she has never known what it means to be part of a family, live in a warm house and have soft bedding to snuggle in – let alone a warm lap to sleep on!! Patty was an urgent save since she knew only erratic feedings, always covered in dirt and fleas; she needed care. When her companion dog was found dead it was urgent she find some safety.  Patty was whisked to a local rescue partner of ours who fostered her briefly and then made the journey to us where we met her with open arms.
There is no sweeter, gentler or cuter Jack. It still amazes us that these dogs can hold the capacity for love after all they have endured. She looks a little scruffy right now and unkempt, but you would be too if you have never had any care and were always covered in fleas and dirty. She's had several baths, and her hair will grow back whiter than before, and since she's had a dental with all of her broken, chipped and infected teeth removed she's feeling so much better, and while they were at it her dew claws were also removed. She is now able to eat all of the delicious food provided her, and enjoying it she is!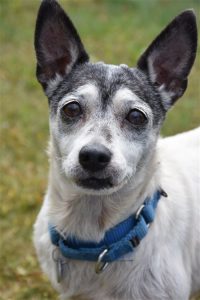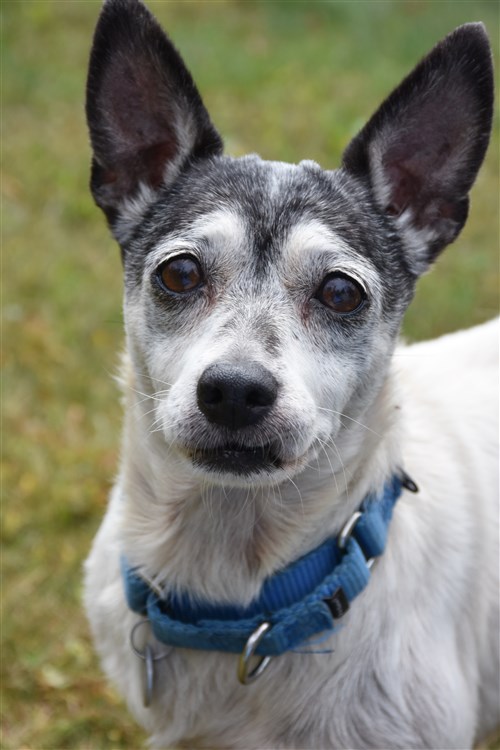 Even though her back legs are wonky, she has an amazing amount of energy and when taking her morning walks she pulls out ahead, observes, and listens as any terrier would. There is no stopping this girl now, she knows how to give kisses, snuggle, loves to run and take long walks and gets along with every dog she has ever met. She is quiet in her crate, rides beautifully in the car and everyone at the vet adored her. What an easy patient she was!
If there is ever a dog that deserves a happy ending this is the one. Just holding her and seeing the twinkle in her eyes when you put on her harness, knowing she will know love and good care for the rest of her days is the most rewarding part of rescue.
She is an easy catch, she's a delightful save, please come and meet gentle Patty.