Jacks Galore received an email from a supporter, who had a friend in Connecticut begging her to seek help for a dog. A little Jack Russell mix who appeared to have been terribly injured, lay in pain and limbo at a vet's office in Connecticut, where the decision had to be made to help heal or to let go. Reaching out to us and asking us for help to please save the life of his dog, we immediately contacted Dr. Sheldon Yessenow of the Oronoque Animal Hospital.  This little girl was lucky to have been taken to this amazing vet clinic, and we got in touch to see if we could assist and possibly help save this dog's life.
A man committed to his veterinary oath, Dr. Yessenow promised to work with us to do the best he could to make this little girl whole; he told us she was well worth the effort. At about four months of age, this small JRT mix was shown the worst side of people by most likely being slammed into something hard in order to kill her. But she survived; was found by the side of the road by two good Samaritans who immediately swooped her up and took her to the vet's office. With a right rear leg broken in a very unfortunate way, and all her toes broken on every foot, this was not something that any vet or experienced surgeon wants to see.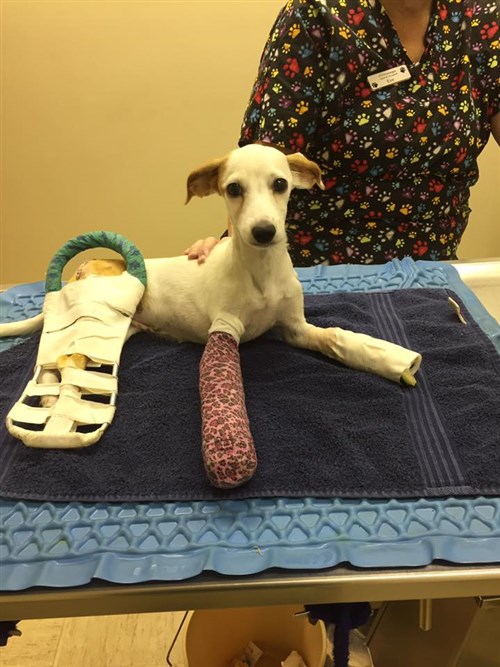 In consultation the decision was made to go ahead and try to save the leg and to "fix" the toes. Dr. Yessenow consulted with several surgeons, and decided upon doing the surgery himself as timing was of the essence and healing needed to begin. Waking up in splints and a cast, this little jack girl continued to show nothing but sweetness and stoicism. From the minute she was in their care, and even though her pain must've been great, she always found a way to lick a human or to wag her tail. How could you give up on that? A short time passed and she was already walking with her splints and cast, and managing to find a way to run to anyone who called her to them. Then shortly thereafter splints and cast were removed and this little girl once again found the ability and desire to walk, albeit a wee bit unsteady, but still able to head towards anyone showing her some affection and encouragement.
Thrilled at the outcome, Jacks Galore is looking forward to her joining the rescue in order to find her that forever loving and secure home. We promised her that she will not be let down by humans again. She will have to endure one more surgery for spaying and then will be ready to come join us in Massachusetts. For now she seems to be walking amazingly well, and Jacks Galore plans on scheduling physical therapy for her, most likely in the pool, where she will be able to build strength.  Our hope is that she will learn to walk as close to normal as possible. We do not know what her activity level will become as she heals, or what she will require in the future, but we will make sure that whatever it is she gets the benefit of enjoying her life that was given back to her by the remarkable Dr. Yessenow.
We tell you the story not only to let you know that rescue involves a lot more than taking dogs in from individuals who no longer can keep them, or shelters who call and ask to take a dog that they are unable to place, but it is also about saving lives, and attending to their veterinary needs if it means the dog is able to be rehomed and enjoy a quality life. When we posted this jack mix on Facebook, we did not yet have a name for her and many people sent in some delightful suggestions, all which we took into consideration. But then an adopter/foster of ours suggested it might be so nice to name this girl after the vet who put all the effort into saving her life. So we decided to name her Shelley.
Thank you Dr. Sheldon Yessenow for not only saving a life, but for your desire to work with us and being part of our rescue efforts. I can assure you  that everyone is very grateful for what you have done, especially all of us here at Jacks Galore, but I'm sure none more so then Shelley herself. Please join us in our matching fundraiser campaign in order to help us pay for exactly this type of unexpected expense, and for allowing us to save more lives like Shelly's.