Dumped at an old abandoned farm building, our four pack of jacks came to us in desperate need of forever homes. They came a little feral, with a little fear, but with an enormous amount of desire to love and to do good. Three brothers, about a year old, now known as George, Jonty and Moo, and a female about two years old from another litter, Evi, all made their way to Massachusetts to be saved. Our rescue partner in Louisiana begged us to intervene once they were caught, and we gladly obliged knowing that they would find the perfect families through Jacks Galore.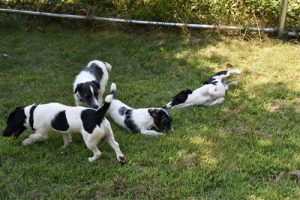 Soon after arrival, and once vetted, Jonty moved to New Jersey with his forever family, with an elder dog sister to show him the ropes; he is slowly learning what it means to be a family dog. Still unsure of himself when it comes to strange noises, lots of activity and requests to do things he has no idea what it means, Jonty is slowly progressing with his training; taking baby steps to become part of the team. Learning that snuggling is something that's to be cherished, and walking on the leash means lots of fun and new adventures.
George, the second to be adopted, will be heading off to Pennsylvania with his new mom, and hopefully a sibling, to also begin the process of becoming a family member.
Moo, the shyest of them all, is slowly learning what it means to be handled, given good food, and playing with toys that were never part of his life.
Our little girl, the older of the batch, Evi, unfortunately is heartworm positive so she will be much longer with us than her brothers. In about four months, when her medical procedures are completed, she will be able to find her forever family and also go through the process of learning to be a dog.
With incredible sweetness, much desire to be loved and curiosity, when a calm someone leads the way, they all will eventually come around to knowing that humans are good, their homes are safe, and that they will blossom and become the Jack Russells they were meant to be.
The work of rescue is not only taking the beautifully bred, housetrained, socialized and healthy into our care, but also the ones that need us the most. It's a balance to try to make it possible for those sweet JRTs that might need some extra time, some more socialization, some extra love and kindness before they can find their forever family.
Sometimes these dogs need us most, they are the ones that we need to say yes to once in a while, so that every little jack has a possibility of finding happiness in their life. We hope you will follow the adventures of Jonty, George, Moo and Evi, and see how they progress in their forever life as happy Jack Russells.  Apply To Adopt Moo or Evi