Once again our fabulous adopter and JG artist volunteer Deborah has compiled the most wonderful Jack Russell calendar for 2019. Featuring many of our alumni, photographs of our supporter's JRTs, and a few of those Jacks still waiting to find their forever home, are found in an array of wonderful photographs of our favorite breed.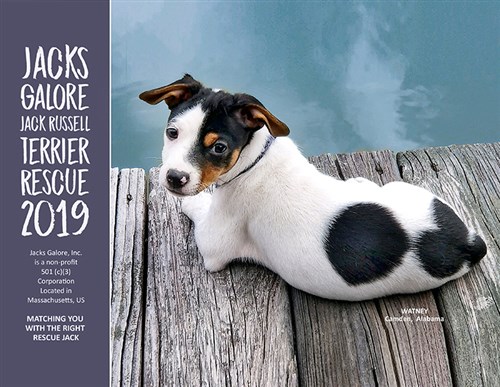 All those who have purchased one has enjoyed finding their dog featured, and letting us know that they are thrilled to get them. The calendar is of really nice quality and it comes in two sizes; so you can hang them absolutely anywhere. Please also know that a small portion of the of the proceeds comes back to us to assist us in saving ever more of those Jack Russells in need. And there's never a lack of these four-legged dogs asking for help.
So please do us a favor, go to the link and purchase one of our wall calendars, not only for yourself but also as a gift. It is sure to please and put a smile on anybody's face as they treasure the joy that each month conveys. Thank you for your continued support, for believing in the work we do; and by buying our calendar you're helping us along the way.
And if you have a Jack Russell, please send in your pictures to us so that we can perhaps share them for the 2020 wall calendar! The new year is fast approaching please by your soon.
https://www.createphotocalendars.com/Shop/jacksgalorerussellrescue